My book 'The Camera Never Lies: 17 Brutal Truths Learned By Filming My Dating Life For National TV' will be available to buy on July 9.
If you buy on 9 or 10 July, you can get the e-book for £0.99 or the paperback for £3.99.
Those who do so and send proof of purchase to joe@4weekconfidence.com will be sent my vault of bonus videos.
If you prefer, you can click here to download the introduction and first chapter for free >>
</p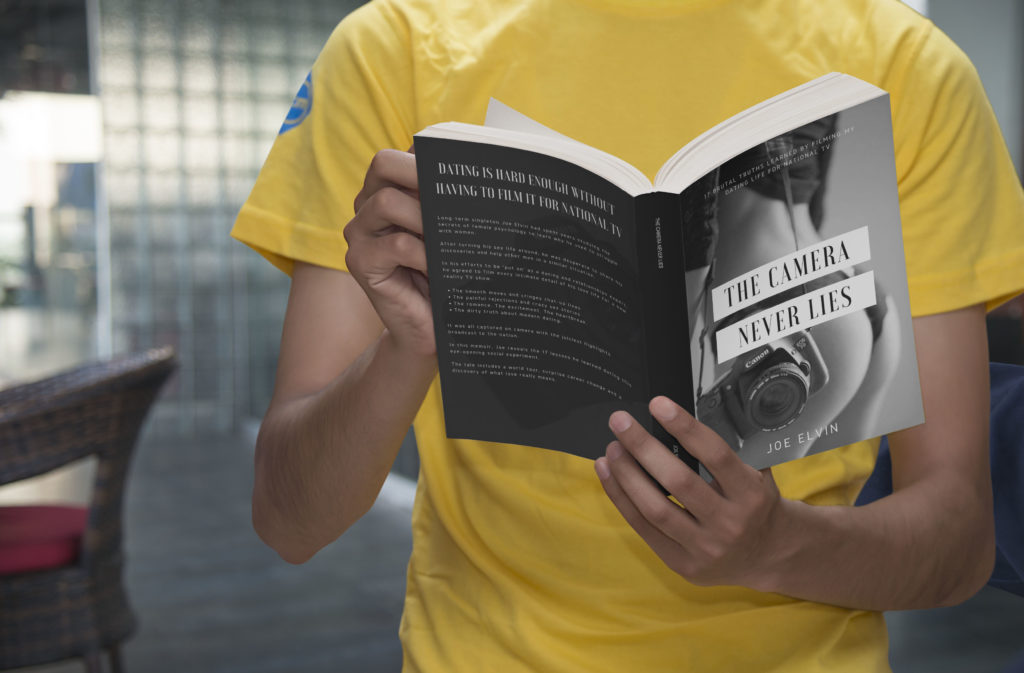 Imagine having a key that unlocks the female mind… 

How would your life change if you understood why women lose interest in men, how to spark attraction when you meet them, how to text them in an engaging way, how to set up first dates so that sex happens nearly every time?

These are among the lessons Joe Elvin learned while filming his entire dating life for national TV. Every date. Every text message exchanged. The cringey chat-up lines. The painful rejections. The tales of debaucherous sex.
Throughout this eye-opening social experiment, Joe's weaknesses with women were exposed. By watching them back on camera, he learned 17 brutal lessons about seduction, female psychology and life. This book captures the dirty truth about modern dating.
If you want to learn…
The most effective method of meeting women that guys never try.
How to never run out of things to say when approaching a woman.
A fool-proof strategy to have sex on the first date nearly every time.
The most common mistake that INSTANTLY REPELS women.
A unique method of texting women that makes them EXCITED TO REPLY.
The huge disadvantage of being gentlemanly that most people don't know about.
The honest truth about taking chances and following your dreams.
The surprising psychology behind why women play 'hard to get'.
Why online dating and speed dating are among the worst platforms to meet women.
Why it's good if some people see you as a COMPLETE ASSHOLE.
How to always have an AWESOME time on solo nights out.
The LIES society feeds you about relationships and 'happily ever afters'. 

…this is the book for you. 

Be prepared to be taken on a rollercoaster that includes some epic sex stories, a world tour, surprise career change and discovery of what love really means. 

Joe had already spent years studying the secrets of female psychology in his efforts to become an established dating and relationships writer. 
By filming every intimate detail of his love life, his knowledge expanded to incredible depths. 

Perhaps the most important lesson of all is: you don't need to be rich, tall or good-looking to take advantage of this information.

When you understand women, you can seduce women. 

By reading 'The Camera Never Lies', you can take your understanding of the fairer sex to new heights, without the huge inconvenience of bringing a TV camera on every date. 

If you enjoy books by Tucker Max, Mark Manson, Robert A Glover, Neil Strauss, Paul Arden and David Deida, you'll LOVE this.